The Differences Between LCD Advertising Display and TV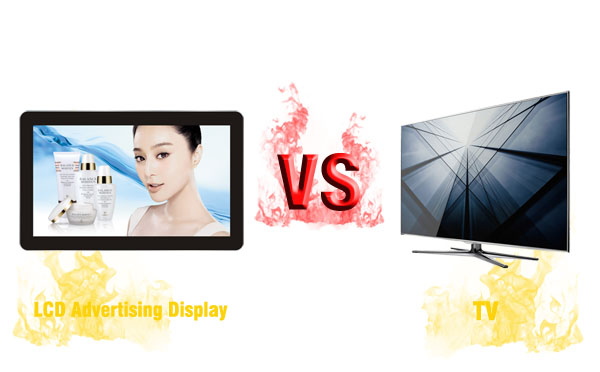 With the rapid development of advertising industry, many people think advertising screen is the same
product as TV in function, actually, same size but with different price, now I briefly introduce some
main distinctions.
First, different shape and frame material. As we all know, TV frame is made of ordinary plastic and
only suitable in daily life. However frame of advertising player is made of metal which might be distorted
but won't burn easily in case of fire, thus it's very safe to be used in public area.
Second, target customer is different. TV is targeted for consumption electronics while LCD advertising
display is not targeted for entertainment electronics. On B2B website it's classified in advertising
equipmentwhich shows it's professional features. Advertising display uses special electronic parts
better than TV in both function and safety.
Third, brightness is different. Usually advertising equipment is placed in open and bright area,
household or civil TV is not so bright as required. As a result, high brightness is also one feature of
LCD advertising player, network advertising screen and digital signage with un-calculated cost.
Forth, system ingredient differs. Our advertising equipment is installed with Android system, newly
technology,numerous choice of program, easy operation, even can be set up to turn on or turn off in
time, with sudden-message change function and also remark message can be listed, synchronized
playing available. Video, pictures and scrolling text could be showed on screen or part of screen.
Letter size or color is optional. Screen can be divided in various size at random according to
customer's request to show picture or scrolling text. Pictures and scrolling text can be showed in
video area up to customer's choice and model playing method set up is also available. Advertising
machine would decode various format and with memory space inside. Files play automatically after
being stored in or driven by internet equipment. Any of the functions couldn't be covered by TV.
Network LCD advertising display is supported by strong management software. Playing could be
controlled by network and screen can be divided into any size to show pictures, video, text, time
and weather report, etc. Through web only to upload, download or delete file, no need person at present.
And the software is with diary and material control function, safer and more reliable.
Finally, lifetime differs. TV couldn't open for 24 hours but advertising machine does as specially
designed to work 18 or 24 hours continuously with industrial LCD screen, safe mainboard and battery.
In modern commercial times, time is money, stable product extremely affects the turnover.